Cartridge shell for FinalGROM 99 – TI-99/4A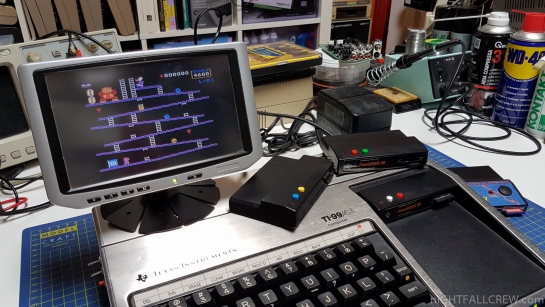 Cartridge shell for FinalGROM 99 – TI-99/4A
I have fit in a best way the pcb of the FinalGROM 99 inside a standard cartridge shell of a TI-99/4a game.
As you can see from the photos the final result is good, there are still some minor imperfections but i'm very satisfied.
I have made three cartridges shells, one for me and two for my friends Ciro Barile of  TI-99 Italian User Club, Andrea Pierdomenico.
Some things about the FinalGROM 99:
The FinalGROM 99 supports ROM images, GROM images, and mixed images of up to 1 MB in size that use the write-to-ROM bank switching scheme. The cartridge does not require the Peripheral Expansion Box and runs on both PAL and NTSC consoles, including modified consoles with an F18A. It will also run on v2.2 consoles and enables those to run ROM-only programs.
The cartridge offers some advanced modes that provide RAM and GRAM to programs. It also allows a running program to reload another program from SD card or to dump its state to SD card. All firmware of the FinalGROM 99 can be updated by SD card.
FinalGROM 99 is released as Open Source Hardware under the CERN OHL license and the GNU GPL license. Both hardware design files and firmware sources are available on GitHub.
For more information about this project please visit the project homepage hosted at GitHub.
Gallery of the works that have been made:
Download: