Commodore CBM (PET) 3032 – Repair and Restoration
This is the story of a Commodore CBM (PET) 3032 recovered in a pitiful state.
The motherboard was covered of rust and many IC are in short circuit. I had to replace some IC (broken or full of rust), rebuild some paths of the pcb and clean very well.
I have also restored the inside of the case, using an anti-rust gel painting.
Photos and Description of the work made:
Various stages of the defects.





The condition of the motherboard before cleaning / repairing.






The motherboard after cleaning and repairing.


 The pcb of the monitor before and after cleaning.


The case before and after painting. The painting is uniform and it's a cause of the gel (very dense). The restructuring was done only internally, because there was a lot of rust inside, the external case is original, no painting needed.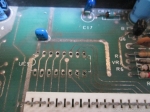 Replaced components, 2732 to 2532 Eprom Adapter and some other PCB view.









Repaired! the final test.




This work would not have been possible without the information found on the net, especially at the site of Tezza's Classic Computers and the Forum New Zealand Vintage Computer and Vintage-computer.
Here you can find the review of the Commodore CBM (PET) 3032.