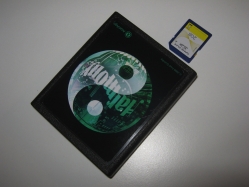 Autopsy:
1 Cents Atari 2600 Video Composite Mod: This very simple/cheap and functional mod adds a Video Composite output to the Atari 2600 console. I have shorted the five contacts Luma/Chroma and Sync for get a decent composite Video Signal. I have also cut a  resistor (R55) to get better colors, for the Audio signal see the picture.
The Harmony Cartridge is a simple, affordable, time-saving, space-saving, hassle-free way to play hundreds of games on your Atari 2600 console.
Using a Harmony cartridge is easy. Just insert the Harmony cartridge into your console slot the same way you would with any ordinary Atari game cartridge. Put your favorite game binaries on an SD card, pop it into the Harmony Cartridge and you're ready to go. Turn on the console, select the game you want to play from the list and start having fun.
source: harmony.atariage.com