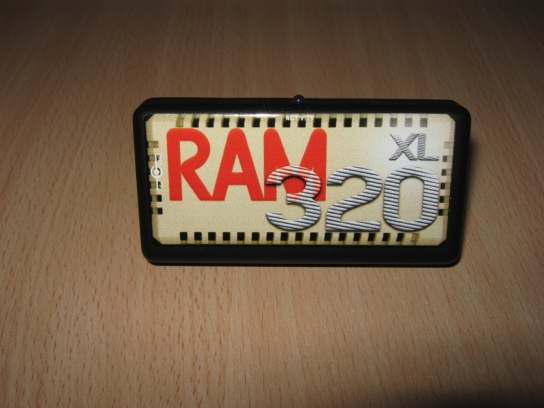 Autopsy:
The Expansion Ram 320XL is a external plug and play 320kB memory expansion card for Atari 600XL and 800XL machines designed by ctirad a user of AtariAge Forum.
Additionally there is a possibility to disable internal memory and remap it onto card (switchable via jumper), thus one can "fix" many failing XLs without even looking inside. Also, an unexpanded 16kB 600XLs can be upgraded to 320XL without any additional work.
The Expansion Ram 320XL uses banking via bits 2,3,5,6 and 4 of PORTB. As you can see this is compatible with "Atari magazine" expansion rather than a most common RAMBO or Compy shop setup, however I have to say the comaptibility with both old and new software is excellent. There can be only problem with some programs, which does use the separate Antic/CPU banking.
The Installation is very easy. The Atari 600XL users will just plug it into PBI port. For Atari 800XL is a bit more complicated, because Atari decided to remove 5V power from the PBI connector from it. Thus 800XL users will have either to use additional power cable which will fit into joystick port or solder one wire inside atari to make the PBI port powered like on 600XL (look photo).
For more information and price visit the atariage.com.
source: atariage.com