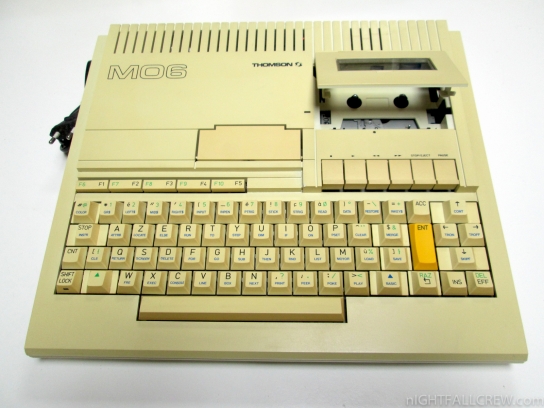 I thank my dear friend that gave me this computer.
Autopsy:
The Thomson MO6 was an 6809E-based computer introduced in France in 1986. It featured 128 KB of RAM, a 40×25 text display, and built-in Microsoft BASIC. The MO6 was available until January 1989. In Italy it was sold by Olivetti with little aesthetic changes, and named Olivetti Prodest PC128.
The Thomson MO 6 was the successor of the Thomson MO 5. This machine was widely used in French schools. It was compatible with the MO 5 and the other members of its family (TO 7, TO 8, TO 9 and TO 9 plus).
It has two versions of BASIC on ROM, one to be compatible with MO5 and BASIC 128 (both made by Microsoft). Almost all memory (101 KB) was accessible with BASIC thanks to a transparent 16 KB bank switching mechanism. An optional 3.5″ floppy disk drive (640 KB) was available.
It had a short life because soon after it was launched, the TO 8 came and challenged to it.
BUILT IN LANGUAGE 2 Microsoft BASIC interpreters – MO5 compatible and BASIC 128
KEYBOARD Full stroke 69 key with 5 function keys and arrow keys
CPU Motorola MC 6809e
SPEED 1 MHz
CO-PROCESSOR Custom Thomson gate array chip
RAM 128 KB
ROM 64 KB
TEXT MODES 40 or 80 chars x 25 lines
GRAPHIC MODES 8 modes, from 160 x 200 to 640 x 200 dots
source: computinghistory.org.uk