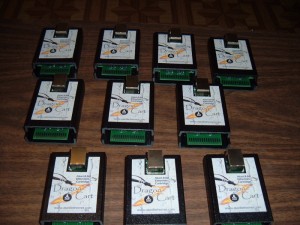 This Ethernet Cartridge will be used to connect a computer Atari 8-bit to internet.
Much of the work has already been done thanks to some very talented people in the Atari community. The hardware and software was originally developed by Chris Martin and tested by Mark Dusko. The software is based on the work already done in the Commodore 64 community, this adapter will allow you to take advantage of telnet, e-mail, web browsing and a web server via the Contiki Operating System and a Ciris Logic CS8900A ethernet controller chip.
The project is now open source and any help with the project is welcome and greatly appreciated. We are hoping with some help from the awesome Atari 8-bit community, we can make the 8-bit ethernet interface a reality!
source: atari8ethernet.com atariage.com