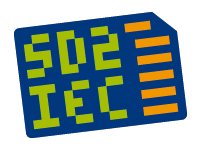 SD2IEC is a hardware mass storage device using an SD/MMC card and interfacing with the IEC bus. It is based on the ATmega644 microcontroller from the Atmel AVR microcontroller family.
The most prominent use of SD2IEC is emulation/replacement of a Commodore-1541 disk drive for a C64. Hardware and the microcontroller's firmware is available as open source (GPL).
Changelog:
2010-03-07 – release 0.9.1
Bugfix: Filling unused REL records used wrong offsets.
Bugfix: Unbreak case-insensitive matching of FAT file names.
Bugfix: Fix raw directory mode for D64/D71/D81.
Bugfix: Tell the display about REL files too.
Add preliminary support for the ATmega1284P.
source: sd2iec.de gitweb forum thread c64-wiki