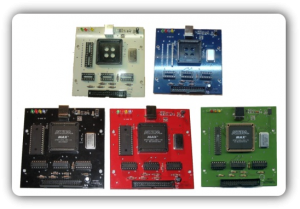 The HxC Floppy Drive Emulator is a software and hardware system created by jfdn aka Jeff.
The aim of this project is to replace the floppy disk drive by an electronic device emulating the floppy disk drive (list of supported Computer/Hardware).
There are two differents emulators:
A USB version which allows to connect the floppy disk drive interface of the computer to a PC via a USB cable.
A SDCARD version which allows to emulate floppy disks which images are stored in a SDCARD.
Release notes for the HxCFloppyEmulator software v2.1.6.0:
XML format definitions : Korg DSS1 DD disks added.
XML format definitions : Emax II disks added.
Command line tool : USB loader -> Raw loader added.
Amstrad DSK file added to the batch converter export list.
New Writer : Thomson *.FD writer.
Thomson *.FD loader fixed : Side 1 ID corrected to 0.
D88 Writer fixed : Cylinder and Side ID correctly set.
ImageDisk (*.IMD) export : Deleted data mark and data CRC error flags supported.
FAT12/16 Disk browser : Entries First cluster readback corrected. (With high word uninitialized).
IMG loader : More disk sizes support added.
DosDiskBrowser : 1.743MB & 1.764MB added.
64bits systems : Batch converter and Dos Disk browser issues fixed.
MacOS X & Linux version : file export -> Auto-append the file extension.
Track editor : Disk flux stream reverse function.
Track viewer & editor : GUI layout changed/updated.
Download:
source: hxc2001.free.fr lotharek.pl