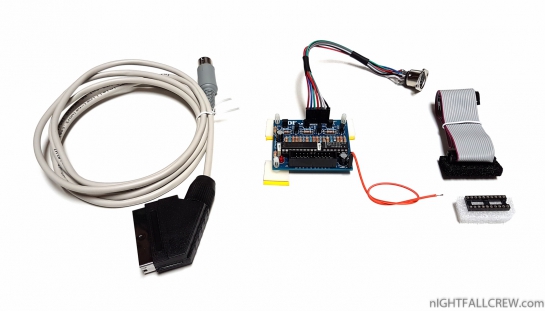 ZOE rev 2.0 Inty (Mattel Intellivision) RGB Interface.
Some information about this revision:
The flat cable that connects the IDC 10+10 male socket to the 10+10 IDC female connector is about 15cm long (in the photo are: 20cm)
The cable that connects the 7 dupont connectors to the 8-pin DIN female panel socket is 30cm long (in the photo are: 20cm)
The video cable with a male SCART connector on one end and a 8-pin DIN male on the other side is 2 meters long.
The audio cable with dupont connector from one end and to solder on the other side is 20cm long.
The ZOE pcb must be fixed with 3 bioadhesive supports.
Status LED.
Improved audio output, there are a little less background noise.

The 8-pole DIN female panel socket can be positioned, after drilling, at any place. I recommend using the RF output hole, removing the RF modulator which is no longer usable after the modification.
This mod like the previous one works ONLY with Mattel Intellivision consoles equipped with the LM1886 (D/A Video Matrix Converter) chips. Example: PAL/SECAM but not UK/NTSC (USA). Better to check, open the console and check.
For console disassembly, desoldering the LM1886 or other connections you can consult the documentation of the previous version.
Gallery:
Soon available for sale.