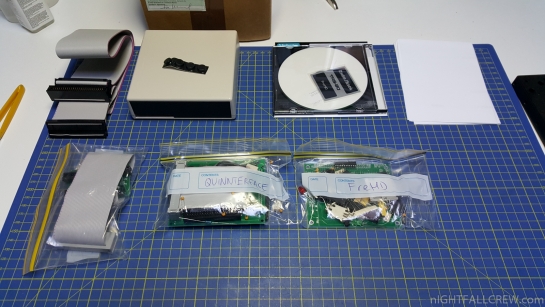 TRS-80 Interfaces in KIT from Ian Mavric and J. Andrew Quinn.
I begin to assemble the kit:
"Quinnterface" is a Mini Expansion Interface for TRS-80 Model I with 16K. Neat little device is perfect for Model I users who own a 16K Level II unit (which is most of you) but no EI or Disk Drives, and don't want to modify your Model I with upgraded boot Rom or memory upgrade. The Quinnterface, developed by J. Andrew Quinn from New Zealand, adds 32K RAM and auto-boot functionality to your FreHD.
"FreHD" SD Card HARD DRIVE Emulator for TRS-80 Model I/III/4.
The complete kit consists:
Quinnterface.
FreHD.
Model 1 Hard Drive Adapter.
BoHx. A small neat enclosure for your FreHD!
CD ROM / Stickers and Cables.
Gallery:
source: ianmav.customer.netspace.net.au/trs80/