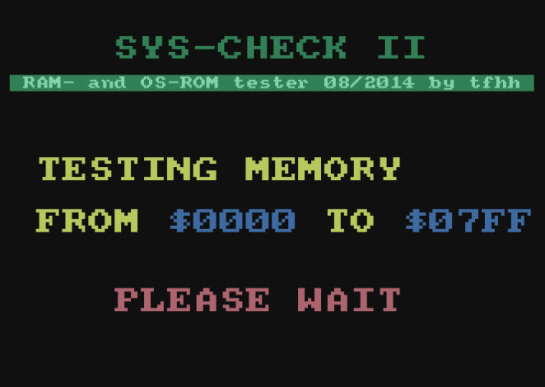 Di seguito il post dell'autore scritto nel forum di Atariage.
A new firmware and flashtool is availible for Sys-Check V2 series.
The new flashtool now supports both Sys-Check PCBs equipped with a SST39SF010A flash chip (V2.1 and V2.2). When you start the flashtool, it will ask you which version you have. To be absolutely sure, the flashtool shows a simplified graphic view of both versions. I think, everybody can handle it :)
Of course the flashtool (and all other documents) are written in german and english.
Also there´s a new firmware V1.4 out. This firmware can be used with ALL Sys-Check versions – also with the old V2.0 (without flash). Owners of the V2.0 must burn the 16 KB firmware image into a 27128 EPROM. All other please use the flashtool to update their Sys-Check.
V1.4 has this minor changes:
Sys-Check can be used with the U1MB expansion.
The new version first checks the whole memory (to be more exact… the first 48 KByte) and then displays the defective bits (if there are any…)
When bad memory within the first 48 KB is found, the upper 16 KB will not be tested.
If memory is fine, OS-ROM will be tested as before.
If both tests are fine, then pressing START after this will set Sys-Check into endless loop test mode. Memory and OS-ROM are tested infinite – until any error occurs.
During memory tests the background will be coloured red if defective bits were detected.
Download: Sys-Check Firmware & Tools v2.2 (34)
source: atariage.com