Philips Videopac G7400 RGB-Composite Hack – Repair – Recap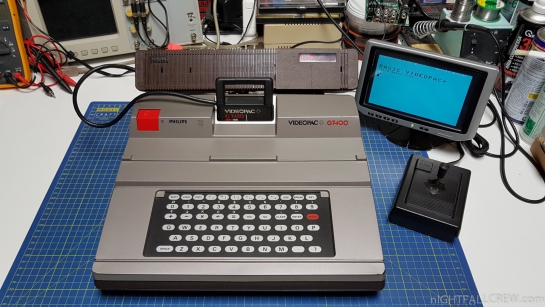 Philips Videopac+ G7400 RGB/Composite Hack – Repair – Recap
I have received a gift from my dear friend Andrea Pierdomenico a Videopac+ G7400 console with the BASIC Microsoft module and some cartridges that go into my collection of videopac cartridges.
This console running smoothly but with some problems.
Power button not working (as usual)
A capacitor of the power supply section has a broken leg.
The works that have been made:
Replacing the power switch with a compatible one.
Full recap of the power supply section.
RGB/Composite HACK for unparalleled video output.
RF Module Removal.
Shifted the 220V Power Cable into the hole of the RF antenna.
Two video cables (Composite-Audio / RGB-Audio)
Videopac+ G7400 RGB/Composite Hack (components that need to be added):
All the works that have been made are documented in the photos below:
source: g7400 guide rgb mod