Atari 800XL Hardware Enhancements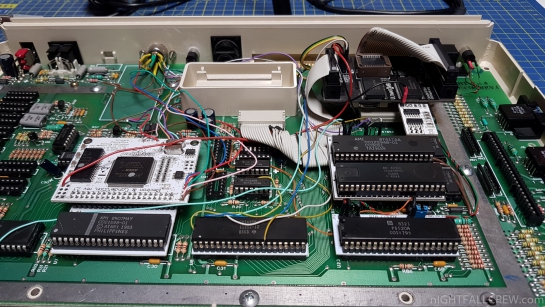 Atari 800XL Hardware Enhancements.
I have decided to upgrade my Atari 800XL with some hardware interfaces available on the Lotharek website.
Current situation of my Atari 800XL:
Ultimate 1MB from Sebastian Bartkowicz (Candle) with the latest FJC Bios.
VBXE + DIN Connector for RGB/Audio Output (RF Modulator Removed)
Simple Stereo + U-Switch + Jack 3.5 Stereo for auxiliary Audio Output.
SIDE 2 / AVG Cartridge
New interfaces installed:
P-Covox + 3.5 Stereo Jack for Audio Output.
SRAM 64Kb.
After installing the SRAM 64Kb module i have removed also this series of IC which are no longer used from the Atari 800XL.
8 X RAM NEC 4164C
2 x SN74LS158N
1 x DM74LS51N
1 x SN74LS375N
1 x Delay Line EP8212 (C060472-D)
Gallery: