Philips Las Vegas ES2208 (Boxed)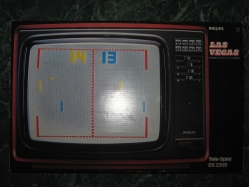 Autopsy:
from old-computers.com Homepage:
This pong from Philips (1977) is a bit special. It uses the unusual AY-3-8550 from General Instruments. This chips offers 4 classic pong games (Tennis, Squash, Squash practice, Football) and 2 shooting games. The paddles can be moved verticaly AND horizontaly, hence the analog joysticks (instead of the classic sliders). The display is in color.
There is a female DIN plug at the bottom-right part of the case. It is used to connect an optional light-gun to play the two shooting games.
There are switches to control the different options like ball speed, paddle size, angle 20°/40°, manual/auto service. There are two buttons: reset and serve. There is even a TV channel selection knob to adjust the picture on the TV.
The Las Vegas ES-2208 is in fact one of the Las Vegas pong systems from Philips. Here is the list:
Las Vegas Tele-Spiel ES-2203 (6 games, black & white display, vertical movements)
Las Vegas Tele-Spiel ES-2204 (6 games, color display, vertical movements)
Las Vegas Tele-Spiel ES-2208 (6 games, color display, vertical & horizontal movements)
Las Vegas Tele-Spiel ES-2218 (8 games, color display, vertical & horizontal movements)
Travemünde Tele-Spiel ES-2207 (4 games, black & white display, vertical movements)
source: old-computers.com pong-story.com