sidSwitcher Enhanced v2.02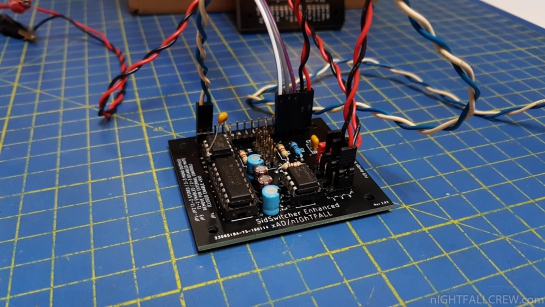 Project born in 2017 for my SX-64++
I wanted to improve the schematics and make a PCB (thank to CodingKoala Labs), the previous version was made on prototyping board pcb.
I have also added some features that i need when i will install the FPGASID in the SX-64++ and like the previous version the sidSwitcher integrates perfectly with the Overlay-64 & Keyman-64.
This circuit is not for sale. Schematics, Gerber and Atmel hex will be available soon for Download.
P.S: This project can also be used as a simple SPDT of analog audio signals. 2 INPUTS and 1 OUTPUT.
Features:
Output for Overlay-64 (http://henning-liebenau.de/overlay64/)
Input Push Button or Keyman-64 (http://henning-liebenau.de/keyman64/)
Bicolor LED (SID1 GREEN / SID2 RED / SID1 + SID2 ORANGE)
Output Mono or Stereo SID1 (LEFT+RIGHT / LEFT) / SID2 (LEFT+RIGHT / RIGHT) / SID1 + SID2 (LEFT+RIGHT / LEFT-RIGHT)
Possibility to use the mute function.
Jumper for configuration.
Schematics: (Prototype and Final):
The following photos are of the first version, second enhanced version, prototype breadboard and pcb.