Datastorm 2017: C64 – Official demo party results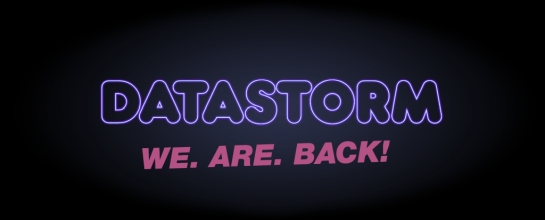 This is the official demo party results from Datastorm 2017. See also the CSDB DATASTORM 2017 section for more informations.
C64 Demo:
1  Neon by Triad
2  The Shores of Reflection by SHAPE
3  The Last Hope by Atlantis
4  Zoo 2017 Invitation by Artline Designs, Extend, Triad
5  Göteborg Tower by Active
6  Surdataströmming 99% by Elysium
7  Dansa med DNS by Dinasours
C64 4K Intro:
1  Belong by Mahoney
2  NP Complete by Rabenauge
C64 Music:
1  Bait & Switch by Stinsen
2  Intertwined by Dane/Lft
3  I Just Had Hex on My Wavetable by Fegolhuzz        
4  Savers by Zabutom
5  Smokish by Kristian Røstøen        
6  Too Little Time by Qdor        
7  Sculpting the Data by ZZAP69
C64 Graphics:
1  Rear View by ilesj
2  Spring Gate by Leon
3  Incarnations by Twoflower            
4  Winter Girl by Hammerfist
5  Time to Waste by Malmix        
6  Mononkel by hedning
7  A Dragon by Sharakmir
8  Monster in My Cookie Jar by OhLi        
9  Vad är en riktig dator?
Mixed Graphics:
1  Grönsaksmördaren by Fatzone        
2  Pollygon Wants a Crackfix by Divine Stylers        
3  Treasure Trove by PETSCIIBerlin        
4  Mr Roboto by Rabenauge        
5  Norwegian Barbecue by Darklite, Hoaxers        
6  Scrolling Kitchens by Silicon Limited        
Productions released outside compos:
Argentine Songbook Vol. 1 by PVM (Music Collection)
Blackbird 1.0 (Tool)
Jupiler Dance by Genesis Project (Music)
Modular Sounds 5 by Artstate (Music Collection)
Neon poster by Triad (Misc.)
Ohnesorg by Triad (One-File Demo)
Spring Gate by Resource/Chorus/Singular (Graphics)
Suburbia Sprawling by Triad (Graphics)
T.P.C.T.S. by Bonzai (One-File Demo)
Download: Datastorm 2017 Full Party Stuff (497)
source: datastorm.party