Bitt-Boy – LDK Game – RestroStone – Retro Gaming Handhelds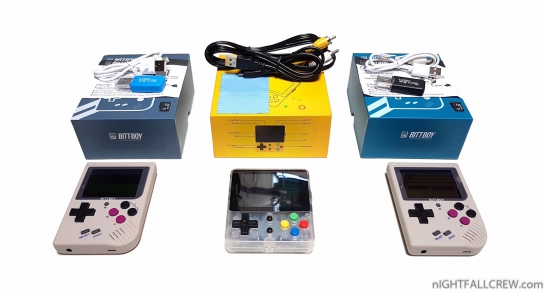 Bitt-Boy/LDK Game/8BCrat RestroStone my Open Source Retro Gaming Handhelds.
I'm always been fascinated by these small retro gaming handhelds consoles especially for the low cost except for the RetroStone which has a higher price.
These small consoles emulate quite well most games of consoles and computers and are supported by an active community of enthusiasts.
I don't think it's necessary to do the hundredth review of these portable consoles, i leave you with the technical specifications of each consoles and some useful links.
LDK Game Retro Gaming Handheld Technical Details:
Processor: JZ4760 Dual-Core 64Bit 528Mhz
Software Functions: Retro Gaming Emulation, Audio/Video Playback, Audio Recorder, E-Book
Pre-Installed Emulators: CPS1, CPS2, Neo-Geo, Megadrive / Genesis, Sega Master System, GameGear and so on.
Display: 2.6″ Inch Color Display (IPS) Adjustable screen brightness
Video Playback: Supports the following formats: RM, RMVB, AVI, MKV, WMV, VOB, MOV, FLV, ASF, DAT, MP4, 3GP, MPG, MPEG
RAM: 128MB DDR2
Storage: 16GB Fast-Accessing Storage
Storage Expansion: Micro SD Card Slot (For up-to 32GB)
Speakers: High Quality – Built IN
Audio Playback: Supports the following formats: APE, MP3, WMA, DRM WMA, OGG, APE, FLAC, WAV, AAC (Including: AAC-LC/AAC HE/AAC+V1/V2)
Audio Recording: Supports Audio Recording in .WAV (High Quality)
I/O: RCA Component for TV Output, 3.5mm Headphone Jack, Micro USB Port, Micro SD Card/TF Card Slot
Languages: English
Battery: Li-Ion BL-5B 1020mAh Built-in
Product Dimensions: 7.60 x 8.80 x 1.70 cm / 2.99 x 3.46 x 0.67 inches
Product Weight: 120gr / 0.26lb
Package Dimensions: 12 x 12 x 5.5 cm / 4.70 x 4.70 x 2.16 inches
Package Weight: 220gr / 0.48lb
Link:
Bitt-Boy (v3/v3.5) OpenDingux Retro Gaming Handheld Technical Details:
Processor: ALLWINNER F1C500S 408Mhz~900MHz
Software Functions: Retro Gaming Emulation, Audio/Video Playback, Audio Recorder, E-Book
Pre-Installed Emulators: CPS1, CPS2, Neo-Geo, Megadrive / Genesis, Sega Master System, GameGear and so on.
Display: 2.5″ Inch Color Display (IPS) Adjustable screen brightness with a tempered glass protector for the screen will effectively reduce the problem of screen scratching.
Video Playback: Supports the following formats: RM, RMVB, AVI, MKV, WMV, VOB, MOV, FLV, ASF, DAT, MP4, 3GP, MPG, MPEG
RAM: 32MB DDR2
Material: ABS
Memory card type: Micro SD
Storage: 8GB
Speakers: High Quality – Built IN
Audio Playback: Supports the following formats: APE, MP3, WMA, DRM WMA, OGG, APE, FLAC, WAV, AAC (Including: AAC-LC/AAC HE/AAC+V1/V2)
Audio Recording: Supports Audio Recording in .WAV (High Quality)
I/O: RCA Component for TV Output, 3.5mm Headphone Jack, Micro USB Port, Micro SD Card/TF Card Slot
Extra: Support vibration on games.
Fix: ghostkey problem fixed.
Battery: 700mAh lithium battery
Languages: English
Battery lasts 3–4 hours
Dimensions: 2.6 x 3.8 x 0.5 in (6.8 x 9.9 x 1.3 cm)
Link:
8BCrat RestroStone:
Processor: ALLWINNER H3 Quad-Core 64Bit @ 1.2Ghz
RAM: 1GB DDR3
Power: DC 5V @ 3A, 3000mAh 3.7V Li-Ion battery, energysquare
LCD: WidthxHeight (3.5″ X:Y)
Video Output: HDMI (Type A/B/C – full/mini/micro), VGA
Audio Output: 3.5mm headphone plug, HDMI, SPDIF, internal stereo speakers, internal speaker
Network    100Mbps Ethernet (Manufacturer device)
Memory card type: Micro SD
USB: 4x USB2.0 Host
Dimensions: 130 x 90 x 25mm
Link:
Gallery: