SwinSID Ultimate (6581/8580 Replacement) by CodeKiller & Hermit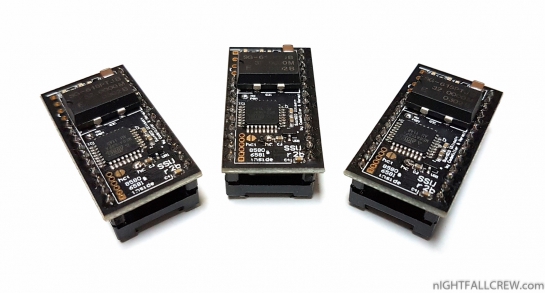 I tried the SwinSID Ultimate (SID 6581/8580 Replacement) by CodeKiller & Hermit and the base work by Swinkels with a Commodore 64 and the Ultimate-64 by Gideon and i must say that it works well without any problem.
The sound and the feel is good and knowing many SID tunes i did some comparisons, i can only say that these two Hungarian guys have done a Great job.
Forget immediatly how sounded the old Swinsid.
Some information taken from the SwinSID Ultimate site:
A duo from Hungary, Máté "CodeKiller" Sebők and Mihály "Hermit" Horváth have been working on improving SwinSID, originally developed by Swinkels.
List of improvements:
It has full feature compatibility with the original SID (over the old SwinSID):
paddle/mouse support.
readable registers (OSC3/ENV3)
external audio in.
bitfade.
proper ADSR-bug support.
fast ADSR attack rate (thanks to the self-correcting rate-counter)
'Lazy Jones' and '180' -like gate and test-bit workaround (no missing note)
proper 23bit noise-waveform calculation –> better "random" numbers.
full 3V p-p output range w/o 1KOhm load (same as 8580)
improved filter quality (16bit) and resonance-table for both SID model.
improved waveform calculation (full 16 bit)
high resolution combined waveform-tables.
It has enhancements over the original SID:
clean anti-aliased bandlimited sound at high pitches.
undistorted mixed digi tunes and eliminated volume-change click thanks to AC/DC separation of master volume register.
Softconfig — software configurable options for a number of aspects of the operation.
LEDs which intensity represents the active channels volume.
LED displaying the active (classic) digi playback.
or in case of the new Mahoney-digi, the entire array acts like a VU-meter.
Software configuration options:
change between 8580/6581 behaviour (filter, ADSR, combined waveforms)
change between PAL/NTSC pitch.
enable/disable external audio input (less external noise)
if enabled, then CAN be enabled to sample trough OSC3 register.
enable/disable startup "ding"(beep)
upload 3 banks of 256 bytes custom waveforms.
"transparent" mute for channels — does not affect the sync, OSC3/ENV3,..
Gallery:
Download:
SwinSID Ultimate Video: