Double Pro Fighter 32Mb – China Coach Limited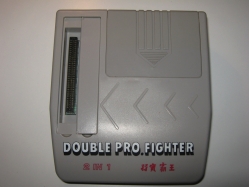 Autopsy:
The Double Pro Fighter is a Backup Copier for Super Nintendo (Super Nes / Famicom) and Sega Megadrive (Sega Genesis) made by China Coach Limited, and shipped with 16 megabits (2 megabytes) of RAM, expandable up to 32 megabits.
The top of the unit contains two females cartridge port for inserting SNES cartridges and Megadrive (Genesis) cartridges. The left hand side contains the floppy drive. The bottom of the unit contains two male cartridge port that inserts into the Super Nintendo or Megadrive (Genesis).