SIO2Arduino for Atari 8-bit (800/XL/XE)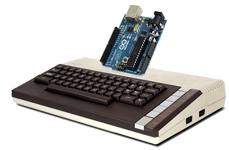 SIO2Arduino is an Atari 8-bit (800/XL/XE) device emulator that runs on the Arduino platform. It currently emulates a single Atari 1050 disk drive (D1:) but there are plans to extend it to support multiple drives as well as other devices.
In its current state, SIO2Arduino allows you to put single and enhanced density Atari 8-bit disk images (ATR, XFD, XEX and many PRO and ATX) onto a microSD card and boot them on real Atari hardware.
source: whizzosoftware.com/sio2arduino