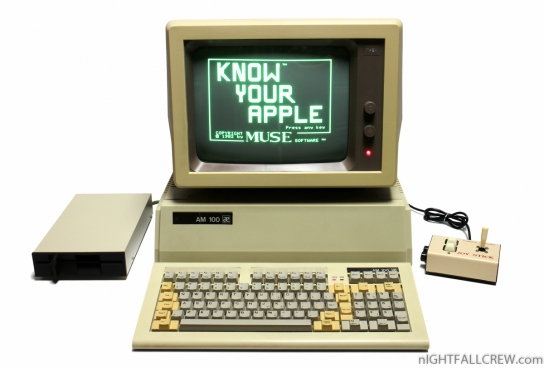 The Home Computer Asem AM 100 is a clone of the Apple II+ (Apple // Plus). This computer was manufactured and assembled by ASEM S.p.A. Artegna (UD) / Italy.
The AM 100 is fully compatible with all the software available for the Apple II and II+. I have personally tested many programs and i've never found problems of compatibility.
Unfortunately this computer is arrived faulty, the repair was more simple than i expected, thanks to the IC sockets located on the computer motherboard.
Works that have been made:
Replacing IC 74LS161 which shows a vertical band on the screen.
Removing RIFA filter capacitor located inside the PSU.
Regeneration of the Keyboard PAD. Some keys did not work properly. The Keyboard PAD have been regenerated using a suitable product that can be found for sale on eBay. Try: KEYPAD FIX
General cleaning of the case outside/inside, monitor and keyboard.
EPROM dump.
All these works are documented with photos that you can find below.
Gallery repairs:
Under the cover gallery:
Final photos:
Interesting discovery:
Inside the Floppy Drive reader (Apple clone) i have found the same mechanics (Mistumi / Newtronics) of the Commodore Floppy Drive 1541. See the first three pictures of the gallery: Under the cover.
Download: ASEM AM 100 full Eprom Dump (665)