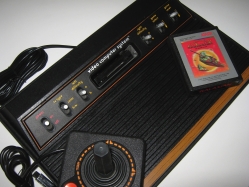 Autopsy:
from Wikipedia:
The Atari 2600 is a video game console released in October 1977 by Atari, Inc. It is credited with popularizing the use of microprocessor-based hardware and cartridges containing game code, instead of having non-microprocessor dedicated hardware with all games built in. The first game console to use this format was the Fairchild Channel F; however, the Atari 2600 receives credit for making the plug-in concept popular among the game-playing public.
The console was originally sold as the Atari VCS, for Video Computer System. Following the release of the Atari 5200, in 1982, the VCS was renamed "Atari 2600″, after the unit's Atari part number, CX2600. The 2600 was typically bundled with two joystick controllers, a conjoined pair of paddle controllers, and a cartridge game—initially Combat and later Pac-Man.
The Atari 2600 was wildly successful, and during much of the 1980s, "Atari" was a synonym for this model in mainstream media and, by extension, for video games in general.
The Atari 2600 was inducted into the National Toy Hall of Fame at The Strong in Rochester, New York in 2007. In 2009, the Atari 2600 was named the second greatest video game console of all time by IGN, who cited its remarkable role as the console behind both the first video game boom and the video game crash of 1983, and called it "the console that our entire industry is built upon."
For the first year of production, the VCS was manufactured in Sunnyvale, California. The consoles manufactured there had thick internal RF shielding, and thick plastic molding around the sides and bottom. These added weight to the console, and because all six switches were on the front, these consoles were nicknamed "Heavy Sixers". After this first year, production moved to Hong Kong, and the consoles manufactured there had thinner plastic molding. In 1978, only 550,000 units from a production run of 800,000 were sold, requiring further financial support from Warner to cover losses. This led directly to the disagreements that caused Atari Inc. founder Nolan Bushnell to leave the company in 1978.
source: wikipedia