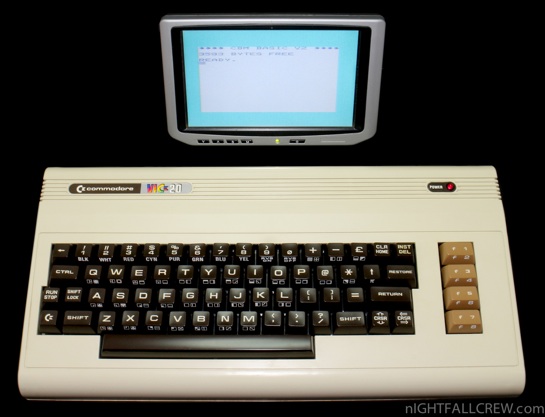 This is an old Commodore VIC-20 Home Computer (PAL) with a "Microgramma Extended Fonts" keyboard. The same keyboard is also used in the Commodore PET computer.

The "PET" style keyboard used on the VIC-1001 and early VIC-20s
The keyboards used in VIC-20 computers were manufactured for Commodore by Matsushita Corporation of Japan. Those used on the very first VIC-20s were almost completely flat-topped and identical in shape to that of Commodore's PET computer (however, on the VIC-20 the PET's number pad was replaced by four wide function keys).
The keyboards on later VIC-20s were manufactured with slightly concave tops. The concavity of the "F" and "J" keys was slightly more prominent to provide tactile feedback for touch-typists seeking the "home" position.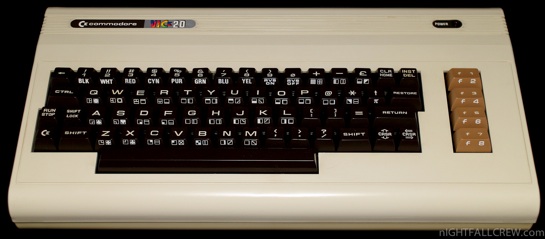 Commodore VIC-20 8-bit Home Computer
The VIC-20 (Germany: VC-20; Japan: VIC-1001) is an 8-bit home computer which was sold by Commodore Business Machines. The VIC-20 was announced in 1980, roughly three years after Commodore's first personal computer, the PET. The VIC-20 was the first computer of any description to sell one million units.
The VIC-20 was intended to be more economical than the PET computer. It was equipped with only 5 kB of RAM (of this, only 3.5 KB were available to the BASIC programmer) and used the same MOS 6502 CPU as the PET. The VIC-20′s video chip, the MOS Technology VIC, was a general-purpose color video chip designed by Al Charpentier in 1977 and intended for use in inexpensive display terminals and game consoles, but Commodore could not find a market for the chip. As the Apple II gained momentum with the advent of VisiCalc in 1979, Jack Tramiel wanted a product that would compete in the same segment, to be presented at the January 1980 CES. For this reason Chuck Peddle and Bill Seiler started to design a computer named TOI (The Other Intellect).
Gallery:
source: sleepingelephant.com/denial/wiki wikipedia