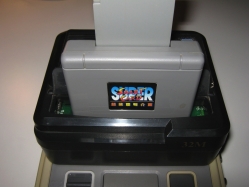 Autopsy:
This is one of the first cartridges based on Flash Memory for the Nintendo Gameboy and Sega Gamegear.
The use is quite complex and you must do via the Super Wildcard DX, the Super Smart Card programmer is inserted into the free slot of the Super Wildcard DX and over this the Flash Cartridge.
The file transfer of the games in format .GB/.GG are done by a pre-loaded software through the backup unit.