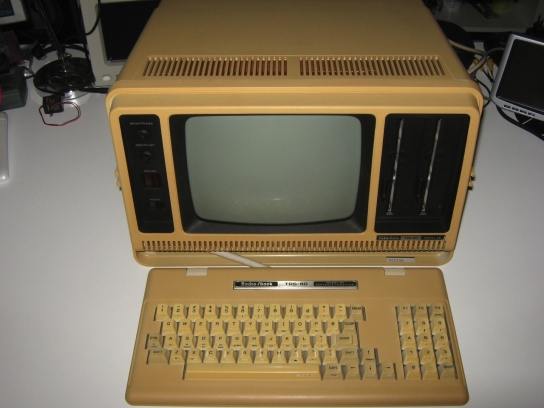 Autopsy:
from Wikipedia:
TRS-80 was Tandy Corporation's desktop microcomputer model line, sold through Tandy's Radio Shack stores in the late 1970s and early 1980s. The first units, ordered unseen, were delivered in November 1977, and rolled out to the stores the third week of December. The line won popularity with hobbyists, home users, and small-businesses.
Tandy Corporation's leading position in what Byte Magazine called the "1977 Trinity" (Apple, Commodore and Tandy) had much to do with Tandy's retailing the computer through more than 3000 of its Radio Shack (Tandy in Europe) storefronts.
The Model 4 shipped with TRSDOS 6, an enhanced version of LDOS by Logical Systems and a vastly superior operating system to Tandy's earlier TRSDOS offerings. When the Model 4 booted into TRSDOS 6 the video display switched into 80×24 mode and the entire 64KB address space was mapped as RAM. The Model 4 was also capable of running all Model 3 software when a Model 3 operating system disk was detected and loaded during bootup with a 64×16 video mode and Model 3 ROMs mapped from address zero.
TRS-80 Model 4P.
The Model 4 also had the ability to display 640×240 or 512×192 high-resolution monochrome graphics with an optional board. A "luggable" version known as the Model 4P (1983) was a self-contained unit with a case design similar to that of a portable sewing machine.
Early versions of the Model 4 mainboard were designed to accept a Zilog Z8000 16 bit CPU upgrade board to replace the Z80 8 bit CPU but this option was never released.
source: wikipedia