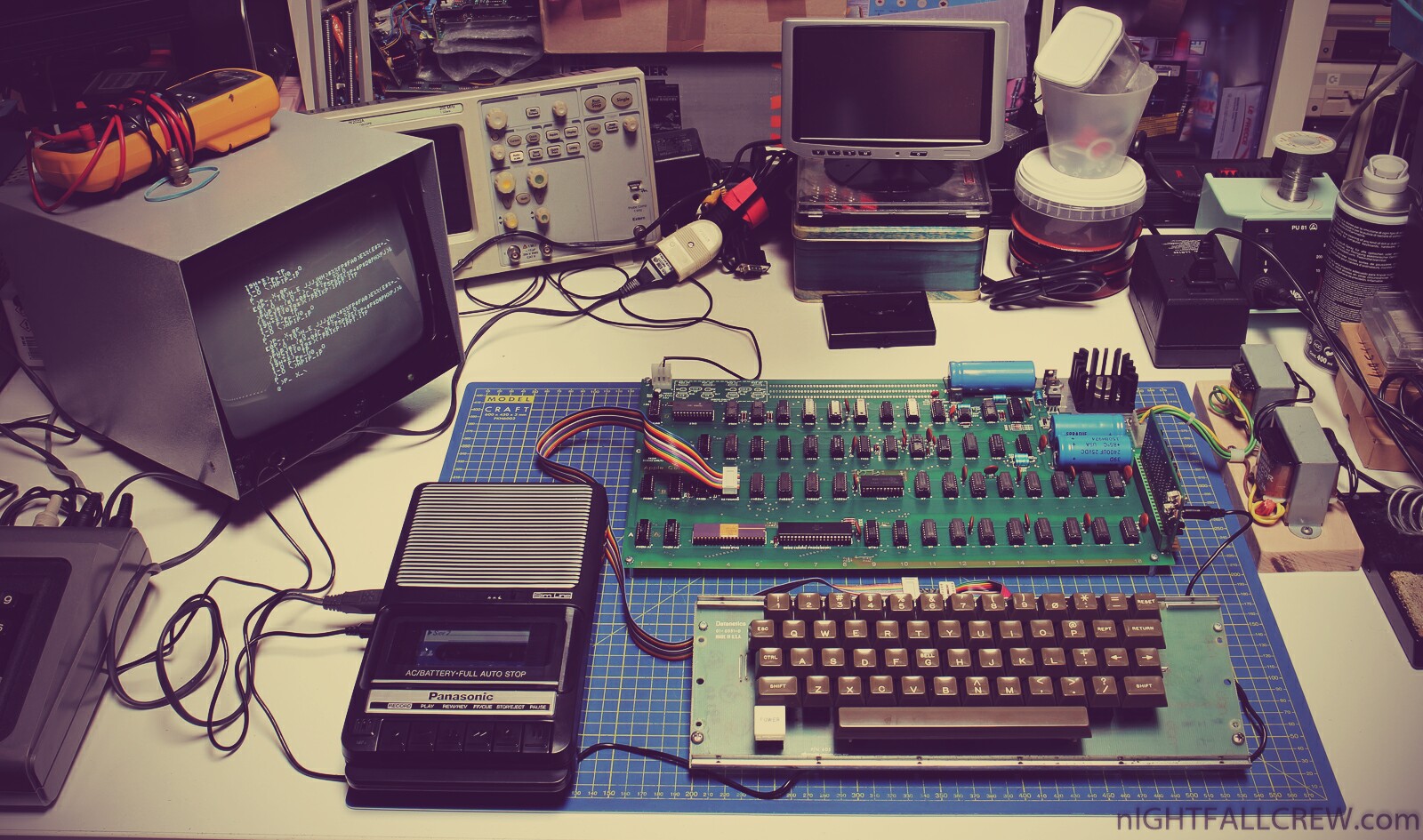 Apple Computer 1, also known later as the Apple I, or Apple-1, was released by the Apple Computer Company (now Apple Inc.) in 1976. It was designed and hand-built by Steve Wozniak. Wozniak's friend Steve Jobs had the idea of selling the computer.
The Apple I was Apple's first product, and to finance its creation, Jobs sold his only means of transportation, a VW Microbus, and Wozniak sold his HP-65 calculator for $500. It was demonstrated in July 1976 at the Homebrew Computer Club in Palo Alto, California.
—————————————————————————————————————————————————
Apple 1 (Mimeo / Mike Willegal Clone) Assembled for a friend of mine; Paolo Cognetti.
Many thanks for the Technical & Moral support to: Piero Todorovich and Alessandro Polito.
I also thank for some electronic components: Gabriele Molesto Zaverio of Museo Dell'informatica Funzionante, Piero Todorovich.
I had several problems with this Apple 1 clone, i very briefly describe the problems below and i attach some photos of the assembling stages.
1 – No video image, all voltages are ok.
1 + MPS3704 Transistor failure replaced with a 2N3704 pinout not compatible.
2 – Garbage screen during boot.
2 + Replaced 2 of 7 Shift Register 2504V
3 – Keyboard inputs not working, the WOZ monitor is freezed and shows an "@ \" but the "\" does not wrap.
3 + Replaced a 27k resistor half broken, probably during transport the capacitor has crushed the resistor.
4 – The keyboard does not respond correctly, typing A they print @, typing 1 they print 0 … and so on …
4 + Keyboard adapter from Apple II/+ to Apple 1 in short circuit. A wire is skewered in a pin of a Socket.
5 – The computer does not respond correctly, but it seems to work. The WOZ monitor responds to commands but does not write to memory and print random locations.
5 + Replaced a 7410 which had a pin always at high level.
6 – The keyboard has several problems, some switches are completly dead.
6 + Replaced switches.
Photos of the assembling stages:
Video: