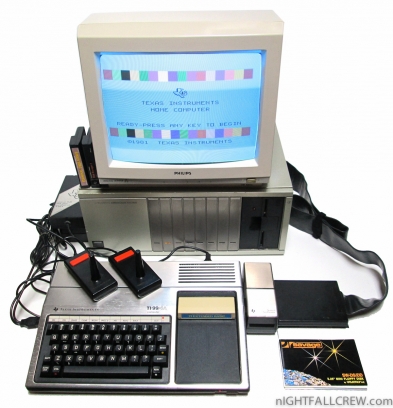 I thank my dear friend Ciro (www.ti99iuc.it) for giving me the "Peripheral Expansion System" and for making me discover a whole new world of the Home Computer Texas Instruments TI-99/4A.
Gallery:
The Peripheral Expansion Box (aka P-Box or PEB) is a stable, silver/gray plastic and die-cast metal box containing eight slots for peripheral expansion cards and a compartment for a floppy drive or two drives of half height ("slim-line", slim as understood in the 70ies and 80ies; today it is the normal height of 5,25″ drives for PCs).
The PEB offers space for 8 expansion cards. All slots are wired in parallel, and the power supply is designed to supply all cards including up to two floppy drives. Floppy drives may be put into the right compartment of the box.
With the appearance of hard disk controller cards, users tried to mount hard drives into the box into the floppy compartment. However, the power supply is not designed to sustain the current required for the hard drives; thus, a separate power supply is recommended.
All peripheral cards are expected to provide their own voltage regulators. Therefore, it is not recommended to replace the power supply by today's PC switched power supplies, as those already provide regulated power which may cause the regulators on the cards to lower the voltage below the acceptable range.
Zoe playing at Ms.Pac man on the TI-99/4A:
source: ninerpedia.org