Archive for the 'Event(s)' Category
Sorry, this entry is only available in Italian.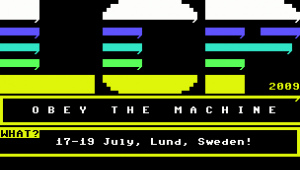 For all the c64/amiga/atari/spectrum/console/whatever-lovin' sideborder musicians, stamp fakers, coders, forth lamers, screen dumpers (yes), bbs hangarounds and full screen graphicians – we strike back! – and we strike hard!
On july 17-19, in Lund/Sweden, we will present you with the hottest incarnation so far in the series of Swedish copy/demo parties, and YOU are invited!
source: lcp.c64.org
Connect to
H i d d e n P o w e r B B s
If you want to transfer a file you need to use: Secure CRT (Win) or SyncTERM (Win/Linux/Mac)

if you have connection problems, try with telnet: bbs.nightfallcrew.com (port: 9009)
Unix D00r Password: area51 / nup: oldskool
SourceForge Info
I have used the alias
Xantal
instead of xAD for some projects. Example: XboxMediaCenter / XboxMediaPlayer and other undergrounds things.
Spam Blocked