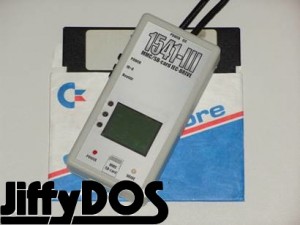 This beta release of the 1541-III firmware holds lot's and lot's of new features. But the most important feature of it all also makes it the most useable version of all 1541-III firmware releases. Why, because it supports JiffyDos. JiffyDos consists of a fastloader that makes all disk acces much and much faster. Making the use of your precious commodore much more fun.
For those who are not familiar with the JiffyDos, just google, otherwise, thrust me. It's really usefull. JiffyDos speeds up ALL your diskacces. Programs or games without a fastloader used to be slow… but suddenly they become as fast as… "greased lightning!!!". So enough about JiffyDos.
Why is this release a beta release,  simply because this release holds a lot of changes made to the 1541-III's firmware, very crucial changes. Most changes are not noticed by the user, and some are never used. But I won't go into detail.
This release is usefull for those who want to test JiffyDos on the 1541-III. And it needs to be tested. Because it will contain bugs, therefore we need to have it tested by YOU, so YOU can make a list of programs/files that works/fails. If you can supply it with a decent description it helps us in developing/fixing the bugs. Making it into a stable release.
source: jderogee.tripod.com