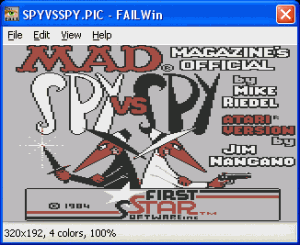 FAIL is a viewer of pictures in native formats of Atari 8-bit, Atari ST, Atari Falcon and Atari Portfolio computers.
Currently the project includes:
Fail2png – portable command-line converter to PNG files.
FAILWin – viewer for Windows.
Thumbnail providers for Windows Explorer and GNOME (Linux)
Plugin for XnView.
(de)coder for ImageMagick.
Plugin for Imagine.
HTML 5 based viewer.
Changelog:
New formats: Interlace Character Editor font (ICE), GEM Bit Image (IMG), Multi Palette Picture (MPP).
This is the last release of FAIL. But don't worry! We are just renaming our project to Retro Computer Image Library (RECOIL), because we are going to support formats from 8-bit and 16-bit machines other than Atari. Stay tuned!
Download: FAIL (First Atari Image Library) v2.0.2 (707)
source: fail.sourceforge.net