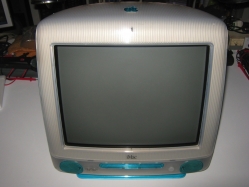 Autopsy:
from Wikipedia:
The iMac is a range of all-in-one Macintosh desktop computers built by Apple. It has been the primary part of Apple's consumer desktop offerings since its introduction in 1998, and has evolved through five distinct forms.
The announcement of the iMac in 1998 was a source of discussion and anticipation among commentators, Mac fans, and detractors. Opinions were divided over Apple's drastic changes to the Macintosh hardware. At the time, Apple was trying to improve its retail strategy. Apple declared that "the back of our computer looks better than the front of anyone else's".
Apple declared the 'i' in iMac to stand for "Internet"; it also represented the product's focus as a personal device ('i' for "individual"). Attention was given to the out-of-box experience: the user needed to go through only two steps to set up and connect to the Internet. "There's no step 3!" was the catch-phrase in a popular iMac commercial narrated by actor Jeff Goldblum.
Another commercial, dubbed "Simplicity Shootout", pitted seven-year-old Johann Thomas and his border collie Brodie, with an iMac, against Adam Taggart, a Stanford University MBA student, with an HP Pavilion 8250, in a race to set up their computers. Johann and Brodie finished in 8 minutes and 15 seconds, whereas Adam was still working on it by the end of the commercial. Apple later adopted the 'i' prefix across its consumer hardware and software lines, such as the iPod, iBook, iPhone, iPad and various pieces of software such as the iLife suite and iWork and the company's media player/store, iTunes.
source: wikipedia