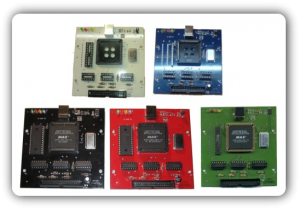 The HxC Floppy Drive Emulator is a software and hardware system created by jfdn aka Jeff.
The aim of this project is to replace the floppy disk drive by an electronic device emulating the floppy disk drive (list of supported Computer/Hardware).
There are two differents emulators:
A USB version which allows to connect the floppy disk drive interface of the computer to a PC via a USB cable.
A SDCARD version which allows to emulate floppy disks which images are stored in a SDCARD.
Release notes for the HxCFloppyEmulator software v1.5.2.0/v1.5.2.1:
BUG : Floppy dump tool broken. fixed.
New files Support : Atari ST DIM image (*.DIM) added.
New files Support : TI99 V9T9 (*.V9T9 / *.PC99) added.
IPF File format (http://www.softpres.org/) overlap bug corrected.
Internal : Tracklen is now the number of bit in the track.
Internal/HFE generator : Track encoding code now set correctly.
ISO/IBM track generator : ISO FM track data mark value corrected/changed to 0xFB.
Release notes for the SD HxCFloppyEmulator firmware upgrade v1.5.0.0:
SDcard : Init frequency corrected.
SDcard : Multi sector read & Write access added.
SDCard access time improved (Slow sdcard issues corrected)
Some important parts of the floppy write support fully rewritten : Important codes improvement (speed & size)
New MFM/DD  write support bitrate added.
FM write support added.
E-mu write support added (E-mu emulator, E-mu emulator II,…)
Two floppy drive emulation improvement/bug corrected.
SDCard HxC Floppy emulator settings (sound/blacklight…) are now stored into the eeprom and used at power up. At power up the last known settings are used.
… full release notes here
source: hxc2001.free.fr