Commodore Amiga CDROM A570 Restoration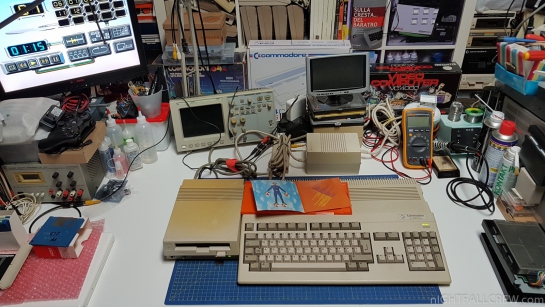 Commodore Amiga A570 Restoration.
I have received two retro things in very bad conditions.
1 x Floppy Drive CD-1411
1 x Commodore Amiga CDROM A570
… but for now we are talking about the Commodore A570.
The Commodore A570 have serious problems that i list below:
Outside case is very dirty, yellowed and broken in several parts.
The Caddy Guide Tracks has been destroyed.
Damaged screws thread.
The metal plate under the CDROM is bent on one side.
Many rusty parts.
Main PCB with traces of water/limestone and rust.
Works that have been made:
Fixed the CDROM CADDY holder, it was not easy because all the metal guides are bent, now it works.
Main PCB cleaning on both sides with the Kontakt PCC and toothbrush.
Cleaned and grease the two rails of the laser head.
Cleaned the head lens of the CDROM.
Fixed the bent metal plate under the CDROM.
Cleaning outer casing.
Fixed with the glue the two pins for closing the case with the screws.
Work still to be done:
The bottom part of the A570 CDROM is very rusty, i need to sand down gently and at least give a hand of anti rust.
Aesthetically is very bad but at least works.
Gallery of the restoration:
Video: