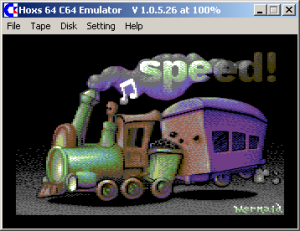 Hoxs64 written by David Horrocks is a Commodore 64 emulator for Microsoft Windows 2K/XP/Vista/Seven (DirectX 9+)
The emulator substantially reproduces this legacy machine in minute detail.
Changelog:
Added point and click raster position breakpoints. Breakpoints can be disabled with out being deleted.
Added command window with assemble, disassemble and C64 memory map selection.
Added disassemble window address finder.
Added disassemble window mouse wheel scrolling (WinXP+).
Randomisation of drive weak bits. Minor drive timing improvement.
The application is marked as "DPI Aware". All Windows GUI elements are DPI aware and will render smooth clear text when used with Windows 7′s "make text bigger" option. Only the windowed mode C64 bitmapped rendering remains non DPI aware as with previous versions.
Added a work in progress breakpoint listview with context menu options "Show Address" and "Delete All Breakpoints"
Illegal opcode tweak for demo 'Errata' by Emulamer.
CRASHFIX: Fixed stack corruption crash when reading G64 files with custom speed zones.
CRASHFIX: Fixed application lock up bug while drag scrolling the disassembly window.
Download:
source: hoxs64.net