BBS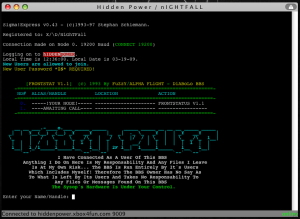 Hi all!, after 13 years we are back Online via Telnet.
The Hidden Power BBS is working with all the statistics (bullettins) and calls (callerslog) of a time, and nothing was removed, all accounts (login / password / nup / telnet login) are the same as 13 years ago.
If you want to try, Click the Magic Link on the upper right corner (you need Java Macromedia Flash for the FlashTermTelnet Client).
Hardware used:
The PASSWORD of Telnet D00r (fake Unix login) is: area51 / nup: oldskool