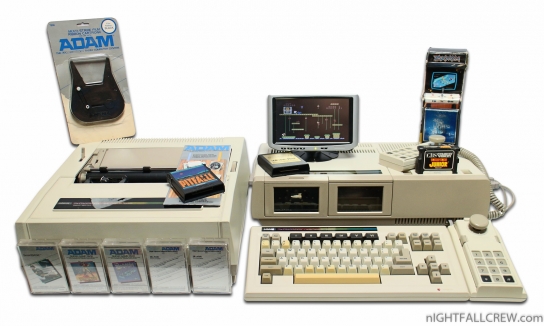 The Coleco Adam is a Home Computer, and expansion for the ColecoVision (port 3), released in 1983 by American toy manufacturer Coleco. It was an attempt to follow on the success of the company's ColecoVision video game console. The Adam was not very successful, partly because of early production problems, and was orphaned in early 1985.
Coleco announced the Adam at the Summer Consumer Electronics Show (CES) in June 1983, and executives predicted sales of 500,000 by Christmas 1983. From the time of the computer's introduction to the time of its shipment, the price increased, from USD $525 to $725.
Coleco's 1983 announcement of the Adam received favorable press coverage. The Boston Phoenix, observing that the computer's $600 price was comparable to the lowest price for a letter-quality printer alone, stated "a nice trick if they can do it!" It was, in fact, a trick; the computers were shown behind tinted glass that hid the fact that they were hand-made and had non-working tape drives.
In June the company promised to ship the computer by August. In August it promised to ship a half million Adams by Christmas, but missed shipping dates of 1 September, 15 September, 1 October, and 15 October. Ahoy! reported that Coleco had not shipped by early October because of various problems. Each month of delay could mean losing the opportunity to sell 100,000 units, the magazine reported, adding that missing the Christmas season would result in "inestimable losses". The company only shipped 95,000 units by December, which were very defective; Creative Computing later reported that "the rumored return rate was absolutely alarming". One store manager stated that five of six sold Adams had been returned, and expected that the sixth would likely be returned after being opened on Christmas. Coleco partnered with Honeywell Information Systems to open up repair chain stores around the nation. By December 1983 the press reported that company executives at a news conference "fielded questions about Coleco's problems with its highly-publicized new Adam home computer, which has been plagued by production delays and complaints of defects", with the company only able to fulfill one third of its Canadian orders for Christmas. Less than 10% of Adam units had defects, the company claimed, "well below industry standards".
Gallery:
Gallery (Cleaning the Keyboard):
Gallery (The big Box & Under the Cover):
Adam ColecoVision Video (Daisy-wheel Printer Test / Tape Loading / Game Cartridge):
source: wikipedia