SD2Iec Firmware v0.10.2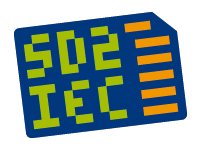 SD2IEC is a hardware mass storage device using an SD/MMC card and interfacing with the IEC bus. It is based on the ATmega644 or ATmega1284p microcontroller from the Atmel AVR microcontroller family.
The most prominent use of SD2IEC is emulation/replacement of a Commodore-1541 disk drive for a C64. Hardware and the microcontroller's firmware is available as open source (GPL).
Changelog:
2011-12-18 – release 0.10.2
Bugfix: End of generated raw directory was incorrect.
Bugfix: Various compilation fixes when fastloaders are disabled.
ULoad M3 automatically exits when ATN becomes active.
Minor code space improvements.
New fastloader: ELoad Version 1 (EasyProg)
Download:
source: sd2iec.de gitweb forum thread c64-wiki
GD Star Rating
loading...