Repair Apple II Europlus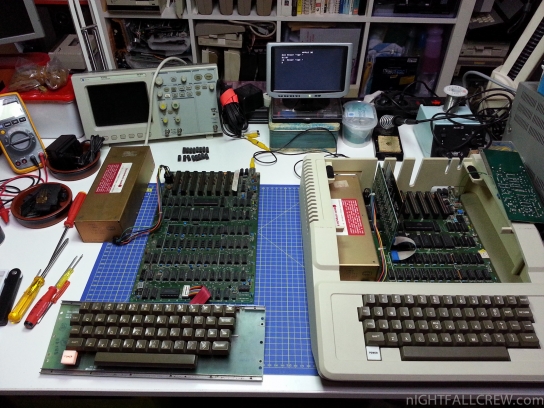 Repair Apple II EuroPlus.
This computer has taken a lot of moisture and temperature changes, it can be seen because the connectors (Apple BUS) have dried up and the plastic tends to break. In addition, some pins of the ICs are rusty, fortunately few.
The main problem of this computer, as well the removal of the usual filter capacitor inside the power supply, was that don't accepts some basic commands (see photo)
The problem was caused by the malfunction of the PROM 341-0014. (E8)
The owner will have to decide whether to purchase the original PROM (current price €13,90 + Shipping) or use a horrible adapter to insert an EPROM 27C16 (2716) in place of a PROM.
This adapter in addition to changing the aesthetics of the original motherboard brings with it some problems.
16k language card don't work.
Long cards which extend to the part of the circuit board cannot be used.
Gallery of the repair:
source: willegal.net classic-computers.org.nz