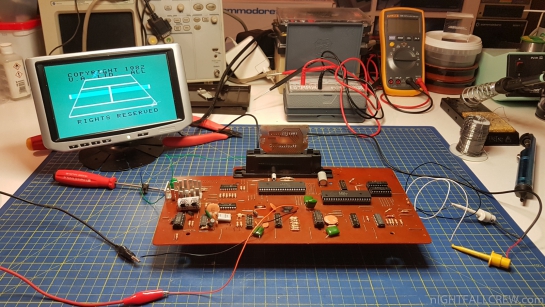 Hanimex 2650/Arcadia 2001/GIG Leonardo (loose) Repair & Composite Video Output.
I start to say that this motherboard was not in repair but in one box of  spare parts. I have only the motherboard of this console, no external case, joystick, power supply … totally useless.
Past and present defects:
Some time ago the two EMF coils are exploded (see the photo) maybe the capacitor was in short circuit after the two coils
Also a capacitors near the coils is disappeared.
Black and White video output.
Repair and Video Composite modding:
I have bypassed the two coils for the 12v DC.
Removed the RF modulator.
I have cutted 3 resistors for the video composite output, you can get a better image (contrast and color) (see photo)
Replaced a 4066 because are missing two outputs of the R-G-B signal and that's why the image was in black and white.
Added a temporary push button for the RESET.
The console without the RF modulator can be powered at 9v DC and not 12v DC, thus avoiding boiling the poor 7805.
Gallery of the repair:
Download: