64Copy v4.44 Released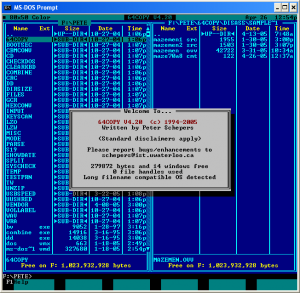 64COPY is an all-purpose DOS and C64 emulator file manager, modelled after Norton Commander, and runs fine under the Windows XP/2000 DOS VDM, or in real DOS.
64COPY will run in a Windows Vista 32-bit VDM, but Vista 64-bit has no VDM support at all. It specializes in converting and manipulating emulator files between various formats.
64COPY does not do any communication to the 1541/71/81 floppy drives to read disks. If that is what you need, download Star Commander for that task.
Some of what 64COPY does includes:
File conversion between D64 (all types, including the F64 variant), D71, D81, D80, D82, DNP, D2M, T64, G64, ZipCode (all types), PC64 (Pxx, Sxx, Uxx, Rxx), LNX, DOS binaries, ARC, CRT, SDA, X64, LBR, ARK, SPY and CPK files.
A very powerful 6502 Disassembler.
TEXT, HEX and D64 HEX editors.
FILE viewer.
BASIC unlister.
D64, D71, D81, D80 & D82 directory customizer.
Check disks and T64, ZipCode, G64, F64 and CRT files for errors.
A whole lot more!
source: 64Copy homepage