Monitor Commodore 1084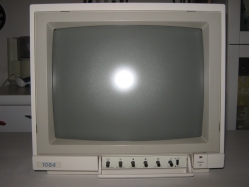 Autopsy:
from C64-Wiki:
The Commodore 1084, which was originally developed for the Amiga, is a very good colour monitor for the Commodore 64. With its many ports it can be used for connecting to many home and personal computers and can also be connected to video recorders, picture record players and TV tuners.
The Commodore 1084 has a good, sharp picture with luscious colours. All the important settings can be changed over regulators art the front or the back. While the 1084 only plays mono, the modell Commodore 1084S can also play stereo. Due to its good price performance ratio the 1084 was (and still is) very popular.
Download: Commodore 1084 Service Manual (1098)
source: c64-wiki.com