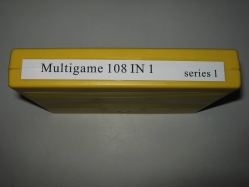 Autopsy:
Find 108 hits of the Neo Geo on a single cartridge, all type are present. This cartridge uses a on-screen menu that allows you to choose the game you wish to play.
Features:
108 Games on only one cardridge.
You can change parameter on each game.
Just hold the player 1 start button down for 5 seconds to return to the game selection menu.
Note:
The Chip with the label erased on Photo #11 is a Atmel AT89S52 datasheet
source: neo-geo.com