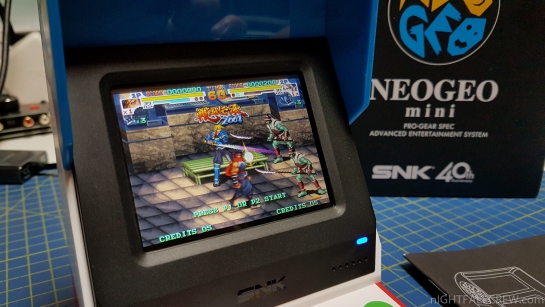 SNK Neo Geo Mini (40th Anniversary) JAP Version.
Il Neo Geo Mini è un sistema all-in-one progettato come un mini cabinet arcade con 40 giochi NeoGeo installati.
Lo schermo 4:3 da 3.5 pollici non offre angoli di visione o contrasto incredibili ma e' molto bello a prima vista e visualizza tutto con una risoluzione nitida e nativa, essenziale per questo tipo di giochi.
Sul pannello posteriore c'e' il pulsante di accensione una porta USB-C per l'alimentazione una porta Mini HDMI e un jack per le cuffie, lateralmente ci sono due porte USB-C per il Joypad.
La selezione dei giochi non e' per tutti, ma come sappiamo bene SNK ha prodotto quasi e solo giochi Beat'Em UP a parte qualche eccezione.
Venticinque dei 40 giochi sono in stile picchiaduro 2D, inclusi tutti i 10 titoli di King of Fighters che giravano su hardware Neo Geo arcade, tre giochi Samurai Shodown, il primo Art of Fighting e quattro Fatal Fury, incluso l'eterno classico Garou: Mark of the Wolves.
Ci sono anche un paio di giochi a scorrimento laterale come Metal Slug dall'1 al 3, Blazing Star e Twinkle Star Sprites.
Ho scattato delle foto senza troppe pretese, se vi interessano foto di ottima qualita' del neogeo mini basta cercare in rete, inoltre, come si puo' vedere non ho ancora attaccato gli adesivi che vengono forniti di serie.
Adesso potete pure insultarmi del perche' ho acquistato un oggetto del genere, dicendo la solita e banale frase: ma e' una raspberry! sappiate che non vi cago neanche per striscio.
Gallery: