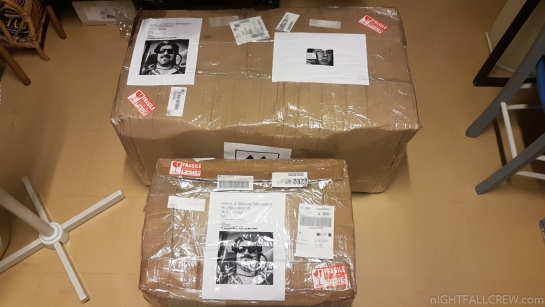 Some retro-things received from my friend Gerben.
2 x Commodore 64 Manual
1 x Commodore 64 Programmer's Reference Guide
1 x Sony HITBIT MSX-Basic Manual
1 x Sony HITBIT MSX-Disk Basic Manual
1 x Sony HITBIT Manual
1 x Jack Nicklaus Accolade game for Macintosh
1 x Commodore 64 Tune-up Book
1 x Getting More from your Commodore 64 Book
1 x Commodore VIC-1541 Manual
2 x Commodore Mouse 1351 Manual
3 x Spare Manuals of Coleco Vision Cartridge (Mouse Trap / Turbo / Time Pilot)
1 x 16k Memory Module for ATARI 800 (Boxed)
1 x Radio Shack TRS-80 Ribbon Daisy Wheel Printer II (Boxed)
1 x Donkey Kong Junior Coleco Vision Cartridge (Boxed)
1 x Narco Police C64 & C64GS Game Cartridge
1 x Simons' Basic C64 Cartridge
1 x Power Cartridge for Commodore 64
1 x 16K Expansion Memory for Commodore VIC-20 (RED CASE)
1 x Homemade Joystick Interface for ZX-80/81
1 x Commodore 64 RS-232 Interface
1 x Multi Cartridge for VIC-20
1 x Protek Joystick Interface
1 x Philips MSX Mouse
1 x S.C.N. Modem for Commodore 64
1 x Modem House Spectrum VTX 711 for ZX Sepctrum (Boxed)
1 x Intel 8087
9 x IBM 2164-20 (RAM)
1 x Sony HITBIT HB-75P (MSX)
1 x Philips 8245 (MSX2)
1 x Frankenstein ZX-81 (Contenitore in legno per lo  ZX-81 e come tastiera quella di un'ACORN Electron) + Espansione di Memoria interna. Un delle cose piu' brutte che io abbia mai visto.
Alcuni RS-232 Gender Changer, Null Modem, RS-232 Tester and cavi sconosciuti.
Il Frankenstein ZX-81 funziona! la tastiera non molto bene, ma non e' un problema della tastiera ma dei collegamenti della matrice della tastiera che mancano, mi chiedo come lo utilizzavano, forse e' un progetto che non e' stato mai terminato ?
Gallery: