Acetronic (Radofin 1292) MPU-1000 Composite MOD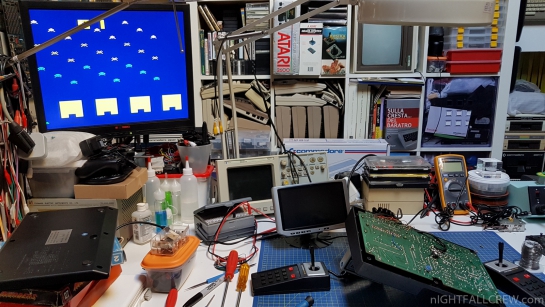 This Video Composite MOD needs some work unlike other similar consoles, you need to remove a resistor and insert a trimmer, otherwise the Video Composite output signal is really bad.
Works that need to be done:
Remove the RF Modulator (remove it completely)
Remove the 4.7k Resitor (see photo)
Solder a 22k Trimmer between the resistor hole (hole side to pin 8 of the TEA 1002/PE1X) and the ground, the third pin of the trimmer is the Video Composite output. (see photo)
Solder a wire for the Audio output. (see photo)
Use the same hole of the RF cable for the new video and audio cable.
Before closing everything i recommend to adjust the trimmer for the best Video output.
Gallery of the Video Composite MOD: