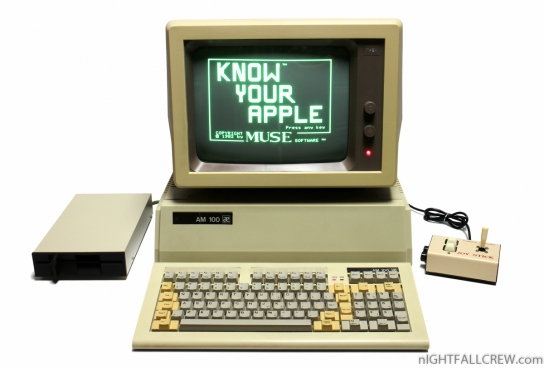 Il Computer Asem AM 100 non e' altro che un clone dell'Apple II+ (Apple // Plus). Questo computer veniva prodotto e assemblato dalla ASEM S.p.A. di Artegna (UD) / Italia.
L'AM 100 e' totalmente compatibile con tutto il software disponibile per L'Apple II e II+. Ho testato personalmente molti programmi e non ho mai riscontrato
nessun problema di compatibilita'.
Sfortunatamente questo computer e' arrivato guasto ma la riparazione e' stata piu' semplice del previsto, grazie anche che gli integrati di questo computer sono tutti
muniti di zoccoli.
Lavori che sono stati fatti:
Sostituzione integrato 74LS161 che genera una banda verticale sullo schermo.
Rimozione Condensatore di filtro RIFA nell'alimentatore.
Rigenerazione dei PAD della tastiera. Alcuni tasti non funzionavano correttamente. I PAD sono stati rigenerati utilizzando un prodotto apposito che potete trovare in vendita su eBAy. Cercate: KEYPAD FIX
Pulizia generale del case esterno/interno, Monitor e Tastiera.
Dump delle Eprom.
Tutti questi lavori sono documentati con delle foto che potete trovare di seguito.
Gallery repairs:
Under the cover gallery:
Final photos:
Un'interessante scoperta:
All'interno del lettore floppy (Apple clone) ho trovato la stessa meccanica (Mistumi / Newtronics) del Commodore Floppy 1541. Guarda le prime tre immagini della galleria: Under the Cover.
Download: ASEM AM 100 full Eprom Dump (688)