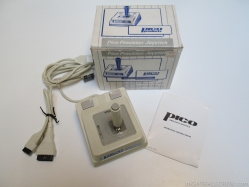 Autopsy:
Il joystick analogico dell'azienda Pico Products è un joystick compatibile con Apple e IBM AT / XT PC.
Caratteristiche tecniche:
Quickfire button on sitck.
User Selectable Auto-Centering or Free-Floating Operating Modes.
Right and Left hand function with firing Buttons.
Dual Axis Vatiable Resistor Controls for Accurate and Stable Cursor control.
Apple II,II+,IIc,IIgs and IBM PC,AT,XT compatible.