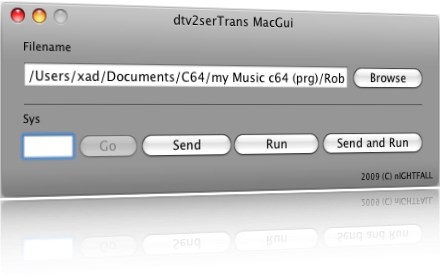 DTV2Ser Trans MAC Gui v0.1 – Concept idea, UI design: Xad – Coding: Lynx
Questa e' una semplice GUI per la tool Shell dtv2sertrans di Lallafa, funziona con PPC e Intel based Macs (Universal Binary),richiede Mac OS X 10.4 o superiori.
Features:
Transfer C64 PRG.
Send/Run/Send and Run.
You can use the SYS for start your proggy.
Debug Output Windows.
Preferences for Enable/Disable Debug Windows and for configure the dtv2sertrans path.
USB Hardware check.
AutoUpdate.
Screenshot:
Download: Dtv2SerTransMacGUI
source: macupdate.com noname.c64.org versiontracker.com