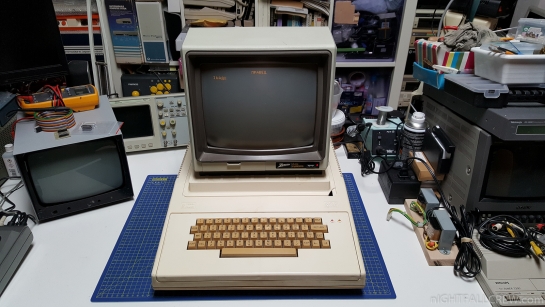 Defect:
Dead and then Garbage screen.
Components replaced/fixes:
1 x CPU 6502 (DH8)
1 x RAM MN4164P (DC3)
One switch of the DIP Switch was in a wrong posistion.
Fixed the connection of the original lamp (power on led) with the pins cutted.
Inserted the missing Z80 CPU (DF8)
The keyboard is not working correctly, some keyboard keys are totally dead.
Gallery of the repair:
Pravetz computers
Pravetz (Правец in the original Cyrillic, series 8 and series 16) were Bulgarian computers, manufactured mainly in the town of Pravetz. Some components and software were produced in Stara Zagora, Plovdiv, and other Bulgarian cities.
The first Bulgarian-made personal computer, IMKO-1, was a prototype of the Pravetz computers that were developed by Ivan Vassilev Marangozov, who was often accused of cloning the Apple II. A few early models were produced at the ITKR (pronounced ee-teh-kah-reh, Institute of Technical Cybernetics and Robotics), a section of the Bulgarian Academy of Sciences. Industrial production in Pravetz started shortly after.
Pravetz computers were of major importance in the economy of the Comecon.
In October 2013, a privately held Bulgarian company claimed in their website to have the rights on the trademark and misleadingly announced that "Pravetz Computers are returning to market". In fact, the company has no link to the original "Pravetz" computers known during the Soviet Era.
Advertisement:
source: wikipedia