Commodore 64 IRQ Bicolor LED
This is a very old project published in a Dutch magazine to capture the state of the IRQ for Commodore 64 (vic-20) with a LED. After many years i have decided to make it.
On the photo you can see the project and the right connections on the cartridge port.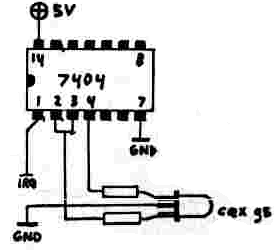 Components:
1 x IC 74LS04.
1 x Bicolor LED.
2 x 330 ohm resistors.
Tiny wires.
How it work?
When the CPU generates an IRQ the green LED lights up, otherwise is red, if the irq is turned on and off quickly the led is orange.